Farrell and Margeson are tied for the lead at the
2017 COBRA PUMA Junior Championship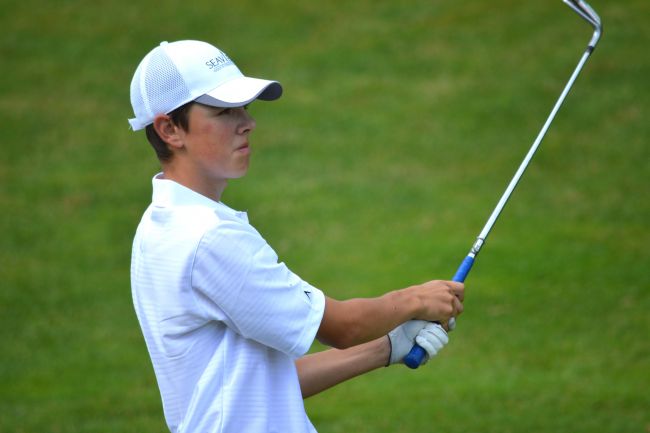 Aubrey Farrell
NSGA Provincial team members, Aubrey Farrell and Shaun Margeson are two under and tied for the lead after the first day of the 2017 COBRA PUMA Junior Championship at the Ken-Wo Golf Club. Farrell, a member of Seaview Golf Club carded an eagle, 2 birdies and 2 bogies during his first round. Margeson, a member of Ashburn had 3 birdies and 1 bogey.
Jakob Wamboldt
Jakob Wamboldt from the Northumberland Links fired a one under par 69 today. The Hammonds Plains native fired a 36-33 and sits alone in third place.
New Glasgow native and member of Abercrombie Golf Club, Ben Callaghan is leading the juvenile division (under 17). Callaghan was even par 70 today. Close behind Callaghan is Mark Chandler from Chester and Ewan Kelly Jr from Ashburn, who shot rounds of 71 and 72 respectively.
Home Course Trio Battle for the Lead at Ken-Wo
Heather McLean – photo credit Stephen Forest -Localxpress
Sisters Meghan and Heather McLean are battling for the lead at their home course today. The sisters, who are 18 and 16 respectively, are also members of the NSGA Provincial Team. Meghan won the 2014 NSGA Junior Championship and is looking to finish her last year as a junior on top with another win. Younger sister Heather is looking to capture her first Junior title. After the first round, sister Heather is two strokes ahead of her older sister. Heather fired the low round during day one and carded a 5 over par 75 to take the early lead. Meghan fired a 77 while fellow club member Sara Cumby sits in third place after carding a 80 during her first round.
Abby Baker from Ashburn has a one stroke lead in the Bantam Division after she scored 90. Truro member Natalie MacKay (90) is currently in second place and Ken-Wo's Danielle Cumby (95) is in third.
For a complete of result and pairing please click below: