The weather was hot and beautiful today at the Ken Wo Golf Club. A total of 176 competitors competed in the 2018 NSGA Women's Two Ball Championship presented by Dr. Ryan Thomas Dentistry.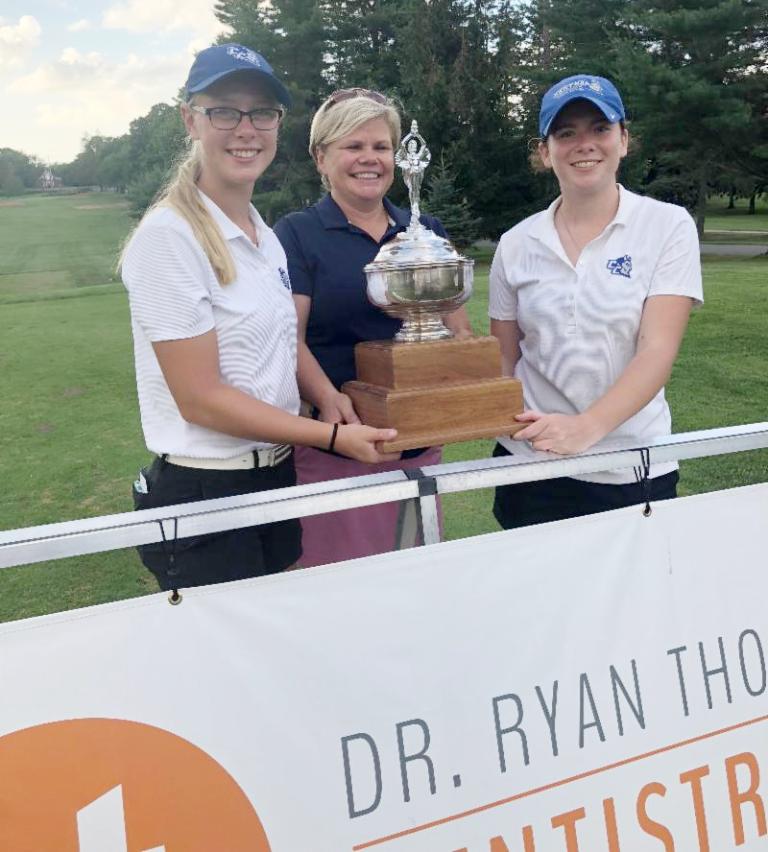 Two Ball Champions – left to right:  Meghan McLean, Wendy Sentner, Vice President of the NSGA and Cecilla Gutierrez Perez
When the dust settled, it was the team of Meghan McLean and Cecilla Gutierrez Perez, who finished a top the field. The college teammates carded a one-over par 72. Gutierrez Perez is a native of Mexico, while McLean is a member of Ken Wo.
Finishing one-stroke behind the champions, was the team of Susan Tumblin and Connie Reynolds from the Oakfield Golf Club. Finishing third overall was Mireille Lewis (Clare) and Heather Pothier (Truro), who carded a five-over par 76.
Theresa Breen and Colette Brake from Brightwood won the second division after recording a 79.
The team of Colleen Youden and Sirpa Winslade from the Ken Wo Golf Club won the third division.
Sherri Cariou and Theresa Bellefontaine from the Links at Penn Hills won the fourth division.
Two lucky teams won the door prizes provided by Dr. Ryan Thomas Dentistry. The teams of Karen Miller and Winny Mills; and Jodi MacKay and Sherri Thurston won the door prizes and will enjoy a day at the Interlude Spa and dinner at the Gio Restaurant.
For a complete list of results from the Two Ball please 
CLICK HERE