PLAYER OF THE YEAR AWARDS
The NSGA is pleased to announce the 2017 NSGA Player of the Year Awards. The NSGA Player of the Year (POY) is a ranking system that assigns points to players from their finishes in various tournaments throughout the golfing year. It is designed to promote the development of golfers in Nova Scotia through a points system based on their competitive accomplishments. 

NSGA Women's Player of the Year
Debbie Arsenault
Grandview Golf & Country Club
Debbie Arsenault had a banner year in 2017 and successfully defended her Player of the Year title. In July she captured her first Nova Scotia Senior Women's Championship and finished 25th overall at the Canadian Women's Senior Championship at the Humber Valley Resort in Newfoundland. Debbie also finished first at the Chester Field Day and at the Grandview Club Championship. A third-place finish at the 2017 June Bug and a fifth-place finish at the Northumberland Field Day added to her accomplishments.
NSGA Men's Player of the Year
Sean Stuart
Ashburn Golf Club
It was tight race for the 2017 NSGA Men's Player of the Year but when the dust settled it was Sean Stuart who came out one point ahead of Aaron Nickerson with a cumulative total of 208 points. Sean's placing at the 2017 Canadian Men's Amateur Championship at the Toronto Golf Club where he finished 22nd overall and captured 75 points determined the outcome. Stuart also finished 7th and 14th overall at the MCT Men's Amateur and Mid-Amateur Championships respectively. This is his second Player of the Year as he was last season's winner.
NSGA Cobra Puma Junior Girl's Player of the Year
Meghan McLean
Ken-Wo Golf Club
Meghan McLean finished off an amazing junior career with her third Cobra Puma Junior Girls' Player of the Year title. Highlights of her year included first place finishes at the Nova Scotia Junior Championship and Future Links Atlantic Championship as well as finishing first and second respectively at the MJT Chester Championship and the CJGA Penn Hills Championship. McLean is now a freshman at the Central Connecticut State University.
NSGA Cobra Puma Junior Boy's Player of the Year
Aubrey Farrell
Seaview Golf Club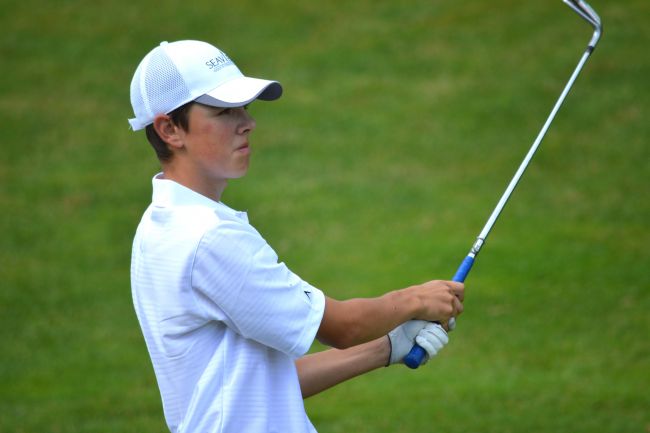 Aubrey Farrell from the Seaview Golf Club captured his second Cobra Puma Junior Boys' Player of the Year title in 2017.  Farrell's year included wins at the Lakes Junior Invitational, the Seaview Junior Invitational and the Le Portage Junior Invitational. He also placed second at the Bell Bay Junior invitational and the Atlantic Future Links Championship. Farrell is now a freshman at the Northeastern State University in Oklahoma.
Juniors – Zone Player of the Year
In addition to these awards, the NSGA recognizes the junior 'Player of the Year' in each of nine regional zones. The following young golfers were chosen as 2017 Zone 'Player of the Year':
Western – Teran Newell – River Hills Golf Club
Valley – Heather McLean – Ken-Wo Golf Club
Cape Breton – Ian Fraser – Seaview Golf Club
Nova Canso – Evan Callaghan – Abercrombie Golf Club
Northern – Jakob Wamboldt – Northumberland Golf Club
Central – Owen Mullen – Truro Golf Club
Metro East – Ben Chassé – Oakfield Golf Club
Metro West – Shaun Margeson – Ashburn
South Shore – Matthew Chandler – Chester Golf Club